Located in St Ives, England, the Leach Pottery is a working studio pottery and museum aimed at teaching visitors about the history of the trade, the studio, and its former owner (and namesake) Bernard Leach.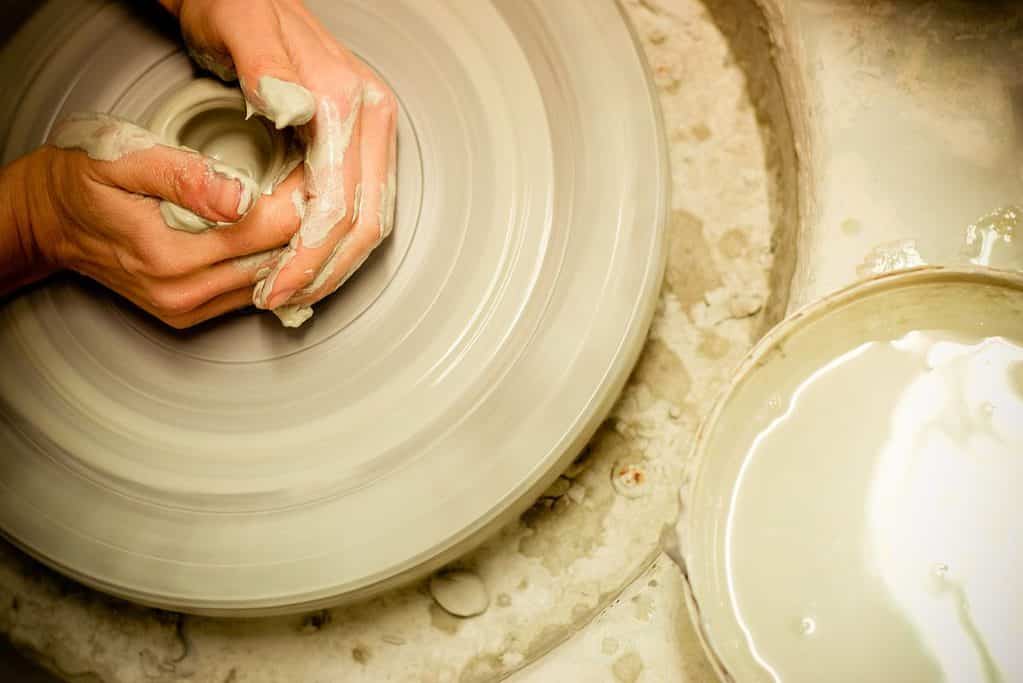 But what exactly is the history of the Leach Pottery, and what legacy does it leave behind?
Leach Pottery: A History
While appearing as a simple pottery museum in a Cornish coastal town, the history of Leach Pottery is much more rich and interesting than meets the eye.
Beginnings
Founded in 1920 as a joint venture between potters Bernard Leach and Shoji Hamada, the Leach Pottery followed in the footsteps of the mingei (or 'folk art') tradition established by Yanagi Soetsu in the early 20th century.
Leach & Hamada
Having stayed with Soetsu in Tokyo, Leach met Hamada while hosting an exhibition at the (then named) Tokyo Industrial College. Impressed by his work, and respectful of his relationship with Soetsu, Hamada befriended Leach – a relationship which blossomed out of their shared interests and opinions.
This friendship was maintained, becoming so strong that Hamada accompanied Leach to St Ives to open his proposed pottery in 1920.
Family Business
In 1937, Bernard's son David Leach took over the management of the pottery. Having trained at the North Staffordshire Technical College, David was well-versed in the modern pottery techniques of the day, abandoning the production of 'earthenware' (such as terracotta), developing a new stoneware body, and taking on apprentices from the local area.
Many of the apprentices who worked at the pottery over the years went on to become revered figures in their own right, including Africa-inspired English potter Michael Cardew, Japan-inspired English potter William Marshall, English studio pottery pioneer Katherine Pleydell-Bouverie, American potter Warren MacKenzie, Canadian potter Charmian Johnson, and New Zealand potter Len Castle.
Later Years
After Bernard's death in 1979, production was stopped, with Bernard's wife Janet Leach taking time to focus on her own pottery – a venture that lasted until her own death in 1997.
Following the death of the Leachs, Leach Pottery underwent a series of acquisitions, being purchased by Alan Gillam, and then by the Penwith District Council as part of their Leach Restoration Project.
Following an extensive £1.7 million renovation and restoration in 2005, Leach Pottery opened to the public in 2008, becoming the working studio pottery and museum that it is today.
Leach Pottery: The Style
Producing Leach Standardware and Leach Homeware, Leach Pottery has a style that is very much defined by its Japanese-inspired beginnings, and the pottery traditions of its native Cornwall – developing a rustic technique, incorporating local clay and equipment, and creating a distinctive style that is both timeless and beloved.
Leach Pottery: The Employees
Despite their Japanese roots, and their distinctively Cornish style, Leach Pottery has a long history of attracting potters from around the world.
Of course, this global mindset shouldn't be surprising when you consider how well-traveled Bernard Leach was, even from such a young age, not to mention the respect and friendship between Leach and the Japanese people during a period of history when tolerance was not commonplace.
In present times, the employees working for Leach Pottery come from all over the world. Many come from England, but others come as far away as Germany and South Africa.
Leach Pottery: Education
As part of the company's new role as a museum and working studio, budding pottery enthusiasts also have the option to take classes and courses to expand their own knowledge and skill sets.
Adult Classes & Courses
There are several classes and courses designed solely for adults. These include:
A throwing taster session – a 2.5 hour introduction to throwing on a potter's wheel.
Summer raku firing.
Piggy bank workshops – how to make your own piggy bank by hand.
3 & 5 day intensive throwing courses – developing practical skills and new approaches.
A tile pouncing workshop with Helen Doherty – transferring freehand original patterns onto clay tiles.
Evening throwing courses.
Exploring glazes & glaze technology – how to develop your own glaze.
Specialist skills courses in producing pottery.
Specialist skills courses in teapot making – valuable insight and guidance in how to procure a standard ware teapot.
School Classes & Courses
There are also several classes and courses for children, including:
School museum visits and experiences – exploring the pottery studio and learning the history of the museum.
School workshops – creative school workshops that can be tailored to the specific needs of the students.
Family Classes & Courses
Parents can also come to Leach Pottery with their children to learn some basic skills. The classes include:
'Clay play' for under 5s – a freeform playtime for children under 5 to explore the possibilities of clay.
Summer school – a summer course for children aged 11-16, giving them the opportunity to learn a range of pottery skills.
Pinch pot classes for children – making pots to be displayed in the museum.
Young potter's wheel workshops – teaching basic control skills for children.
October half term courses – making your own potter's tool kit to take away with you.
Children's piggy bank workshop.
Teen Classes & Courses
There are several teen classes for aspiring potters to try, including:
The summer school potters week.
Young potter's wheel workshop.
Work experience.
Community Classes & Courses
There are also several community projects that the business is involved with, including pottery classes for dementia sufferers and their carers, community archive projects, and taster days.
Final Thoughts
From this article, it is clear to see that the true legacy of Leach Pottery is composed of far more than earthenware pots. What the business and museum represents is a sense of community and inclusivity that reaches far further than just St Ives.
Offering employment and apprenticeships to people from all around the world, not to mention giving back to the local community, it is clear that the well-traveled spirit with which Bernard Leach lived his life continues to thrive.