Bernard Leach is one of the most prominent figures in the history of ceramics. He has even been hailed the "father of studio ceramics" by critics.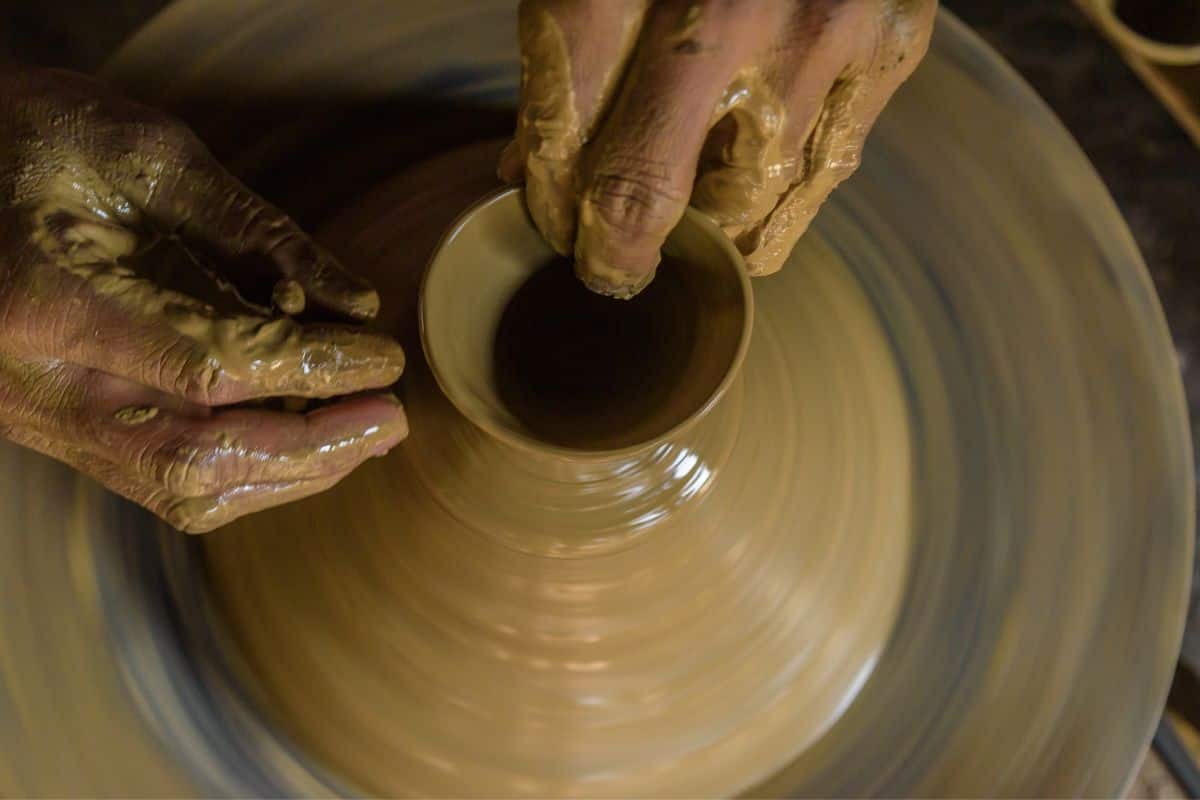 Particularly his tiles and pots made him world famous, although he started his career at a time when being an artistic potter wasn't very fashionable.
At the beginning of the 20th century, many potters were simply paid to create and decorate pots for large manufacturers or studio potteries.
Bernard Leach saw pottery and ceramics as a form of art, and he was a strong believer in fired ceramics.
All his life, Leach had to find a balance between producing ceramic wares for commercial use and creating pieces of art made of porcelain, earthenware and stoneware.
In this article, we find out more about Bernard Leach's tile panels, pots and other pottery works.
The Work Of Bernard Leach
Born in Asia, Bernard Leach's work combined many influences from Japan of his time.
He was also very interested in Chinese and Korean ceramics which he put together with a great appreciation for traditional English ceramics as well as an interest in Medieval history.
The many pots and tile panels that Leach decorated and designed show a vast range of these passions. They also show his excellent draftsman skills.
Leach started his career in etching and painting where he applied figurative decorations which were unusual for the time.
As Leach is known today as the forerunner of the modernist movement in ceramics in the 20th century, pottery historians continue to review and reassess his work, especially his beautifully painted tiles.
Leach made a large range of tiles and pots throughout his career of seventy years, and there are continually exhibitions of his works across the United Kingdom and the world today.
Many of these exhibitions with different themes show the strong, yet simplistic understanding of form that Leach applied to his work.
This principle was combined with decorative painting which highlighted the form of each piece. One particularly strong piece is Leach's Leaping Salmon vase.
The combination of decoration and form in his pots make these pieces look almost understated and quietly contemplative.
This is often seen by historians as the pioneering work that Leach has done to create and shape an alternative art form.
The Leach Pottery
Bernard Leach may have been born in Asia, but he was educated in England, and this meant that he was home in both cultures.
In 1920, Bernard Leach founded the Leach Pottery with Shoji Hamada. Based in St Ives (Cornwall, United Kingdom), this pottery has become one of the most influential studio potteries across the globe.
St Ives was already buzzing artist colony and there were already some local artists established.
Hamada and Leach worked very closely together, also because they were like-minded which made for a harmonious business relationship.
Both wanted to combine the principles of arts and crafts with the handmade techniques of beautiful pottery.
However, not everything went smoothly at the pottery at first. The first wood-fired kiln collapsed, and Leach had to ask Tsuronosuke Matsubayashi from the Asahi Pottery in Japan to review the design and rebuild it.
Matsubayashi stayed for a couple of years, and his knowledge of ceramic chemistry considerably influenced the work and work processes at the pottery.
Leach and Hamada were like-minded and worked well together which made it possible for them to combine the principles of Eastern and Western art in pottery.
The pottery was closed for some time but it was reopened in 2008 as a studio, shop and museum to show Bernard Leach's legacy.
The pottery also offers a range of workshops to support mental health and wellbeing campaigns, as well as provide a platform for emerging pottery talents.
Leach's pottery is dedicated to the creation of handmade pots, tiles, plates and many other ceramic arts. There is also a strong focus on local materials to support sustainability for the future.
About Bernard Leach
Bernard Leach was born in Hong Kong on 5th January 1887. He spent the first three years of his life with his father in Japan but moved back to Hong Kong after this time.
The first years of his life were dedicated to learning, and he later went to the Slade School of Fine Art and the London School of Art.
There, he continued to develop his interest in Japan and Asian art. After his time in London, he returned to Japan with his wife in 1909 where he gave talks and taught etching.
He influenced a number of different Japanese and Asian artists as part of his teachings. He moved several times across Asia to learn different techniques and pottery methods.
His time in Japan and Asia gave him a foundation knowledge that helped him to establish himself as an artist potter.
That's why, he had a final exhibition in Osaka and Tokyo in 1920, and left for England in the same year to found the Leach Pottery.
Today, the pottery based in St Ives looks after Bernard Leach's legacy, and also develops his techniques further.
Final Thoughts
Bernard Leach is a very well known pottery artist. Many potters and ceramic enthusiasts know and love his tiles as well as his pots and vases.
Although historians agree that Leach was a key figure in the earlier arts and crafts movement, there are divided opinions over the exact achievements of his work.
There are a number of questions around pottery as part of his everyday life, his national identity with his influences from the East, and also the concept of pottery as a form of satisfying work.
All these issues, Leach also touched on with his art, and they are more present than ever today. This is never more true than in pottery as part of our mental health and wellbeing.
And the Leach Pottery continues to keep his heritage and values alive in its own work with ceramic artists.